BlaineTurner Advertising is recognized for winning gold in the 15th Annual Davey Awards for the Greater Morgantown Convention and Visitors Bureau (GMCVB) "Morgantown Marathon – Take Steps" online social video in the Online Film & Video-Social Video category. 
To view the award-winning television spot, click here.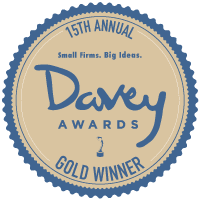 BlaineTurner Advertising filmed and produced a short social video for the Morgantown Marathon, a local event sponsored by the GMCVB. The social video, "Take Steps" encouraged runners to register for the Morgantown Marathon to benefit the local veterans' organization, Operation Welcome Home. The video covers the difficulties our military face when they reenter civilian life, and why the resources that Operation Welcome Home provides are so necessary in the local community.
The Davey Awards is judged and overseen by the Academy of Interactive and Visual Arts (AIVA), a 700+ member organization of leading professionals from various disciplines of the visual arts dedicated to embracing progress and the evolving nature of traditional and interactive media. With nearly 3,000 entries from across the U.S. and from around the world, the Davey Awards honors the finest creative work from the best small shops, firms, and companies worldwide
"We knew from the beginning that this video needed to make an impact, as the subject really hits close to home for all of us here at BlaineTurner." said Sarah Rogers, President of BlaineTurner Advertising. "We're proud to be able to shine a light on such an amazing cause with this award." 
For a full list of our awards, please visit blaineturner.com/the-awards/.