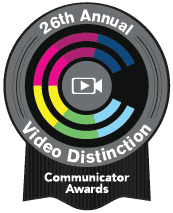 BlaineTurner Advertising is recognized for winning an Award of Distinction in the Video, Commercial – Hospital category for the St. Joseph's Hospital "Looking After One Another" sixty-second tv commercial in the 2020 26th Annual Communication Awards.
The Communicator Awards are judged and overseen by the Academy of Interactive and Visual Arts (AIVA). The AIVA is an invitation-only member-based organization of leading professionals from various disciplines of the visual arts dedicated to embracing progress and the evolving nature of traditional and interactive media.
BlaineTurner Advertising filmed and produced the sixty-second television spot for St. Joseph's Hospital as part of a brand awareness campaign focusing on the services and specialties provided to the rural community. As a critical access hospital, St. Joseph's Hospital goes the extra mile for patients by providing excellent healthcare and support close to home.
Founded over two decades ago, the Communicator Awards is an annual competition honoring the best in advertising, corporate communications, public relations and identify work for print, video, interactive and audio. The 26th Annual Communicator Awards received over 6,000 entries from ad agencies, interactive agencies, production firms, in-hour creative professionals, graphic designers, design firms, and public relations firms.
"We're honored to receive an Award of Distinction for the commercial produced for St. Joseph's Hospital," said Sarah Rogers, President of BlaineTurner Advertising. "Working with St. Joseph's gave us the opportunity to learn more about critical access hospitals and the benefits brought to those living in rural areas."