BTA recognizes Meredith Eddy, Digital Media Strategist, for becoming a Facebook Certified Buying Professional!
To earn this title, Eddy passed two exams: the Facebook Advertising Core Competencies exam and the Facebook Certified Buying Professional exam–both of which are 50-question assessments.
Eddy's experience in digital marketing and her well-rounded knowledge of Facebook Advertising will help our clients build brand trust–converting their followers into buyers–and give our clients an advantage over their competition by understanding the buyer's journey, utilizing audience insights to optimize campaigns, such as cross-device tracking with the pixel, and meeting Facebook Key Performance Indicators (KPI's).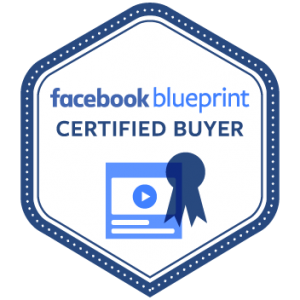 The Core Competencies exam measures basic skills, tools, advertising policies and best practices required to manage Facebook pages, such as creating, purchasing and managing ads, as well as understanding the role of Facebook media planners and buyers.
The Buying Professional exam not only measures advanced-level Facebook ad skills, but it also measures ad buying types, improving performance and delivery of the ad, troubleshooting ad issues, audience targeting, Facebook reporting, testing Facebook pixels and leveraging consumer insights and the product catalog.
"Earning this certification is a testament to how much I have accomplished during my time at BlaineTurner Advertising," said Eddy. "More than ever, I am confident in my abilities to garner continued success for my clients' campaigns and I am excited to implement what I've learned."
The top five U.S. cities for individuals receiving the certification of Facebook Buying Professional includes: New York City; Chicago, Ill; Irving, Texas; San Francisco, Calif; and Los Angeles, Calif. Additional locations who complete the top 10 are Washington, D.C.; Georgia and Massachusetts.
"At BTA, we encourage the team to expand their skills through online training and certification," said Ginna Royce, CEO and Creative Director. "Our goal has been and always will be to constantly improve the marketing products and services we deliver to our clients."
Eddy graduated from North Carolina State University in 2016 with a Bachelor of Arts in Communication: Media, with a double minor in Graphic Communications and Spanish. In 2018, she earned a Master's of Science in Integrated Marking Communication from West Virginia University.
Eddy currently resides in Morgantown with her husband Sam Eddy.
To learn more about Eddy and the rest of the BTA team, please visit blaineturner.com/the-team/.