Since 1986, BlaineTurner Advertising has used creativity to deliver real business results. A lot has changed since then, but we're still on a fearless pursuit of perfection to deliver results in the modern world.
Through a strategic process that we call "The BTA Way," our team is able to respond to an ever-changing marketplace to fit our clients' needs.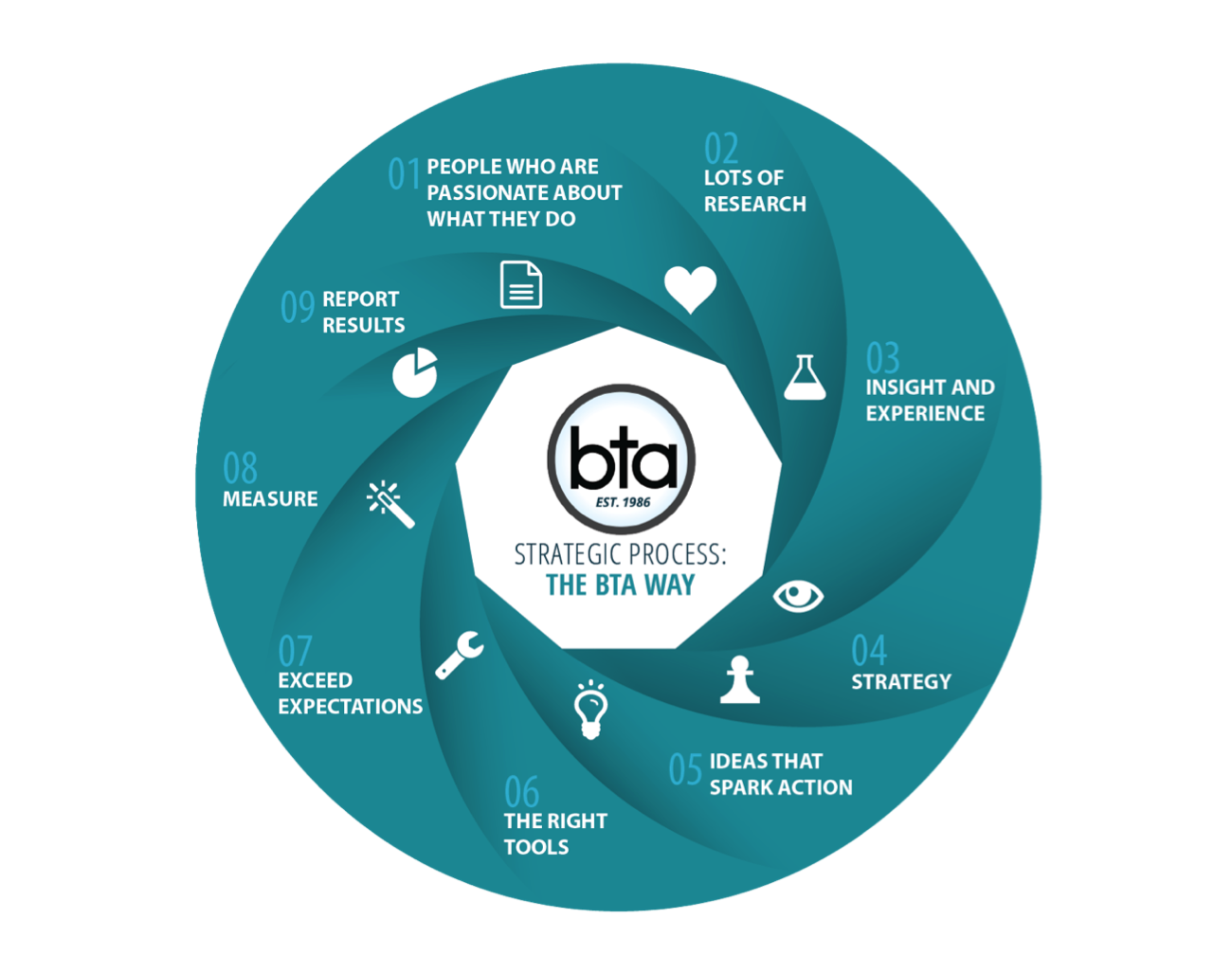 1. Research
As an agency, we are a passionate group of strategic thinkers, creative minds and technical wizards that enjoy working together to accomplish our clients' goals. Producing quality work as a team is what motivates us to continually perform beyond expectations.
Over the past 30 years, BTA has gained quite a bit of insight and experience of what's important in the marketing world; To always do what's right, to hold ourselves accountable, and to remain transparent.  
To hold ourselves accountable to these standards, we increase our knowledge about your audience and competitors before making any recommendations.
We begin our research process by defining clear objectives for your company's brand or services. Then, we develop a research plan around theses objectives and collect information that is unbiased and relevant to the objectives and research plan. Afterward, we analyze this information and form the collected data into reports.
Our final step in the research process is to develop a marketing campaign around the data that we have found and make recommendations. The solutions that we recommend are strategically positioned in order for your brand or services to be marketed effectively and efficiently.
2. Strategy
Once our research is complete, all team members that will be involved in your marketing project will gather for a kickoff meeting to bring ideas to the table. This strategy meeting helps to form ideas that spark actions that will bring more customer engagement, acquisition, and retention to your brand through visionary planning and marketing expertise.
Using what we call the "Customer Journey," we form a roadmap to tell the story of a typical customer experience with your brand or services. This roadmap includes the customer's initial contact with your brand or services, through the process of engagement, and into a long-term relationship. We use this roadmap as the foundation of our marketing automation strategy to ensure the appropriate message is getting to the right person at the right time.
There are many different stages of a Customer Journey roadmap that we can identify to better understand your customer. If your customer knows your brand and wants to hear about it every once in awhile, the customer is most likely a subscriber and the chances of a long-term relationship with your brand are positive. If your customer has given your company an email address as well as information regarding their interests that can benefit your company, then this customer is a lead.
However, there is always room for your customer database to grow. People who are interested in your brand or services, but are not yet on the customer roadmap are opportunities for you to tell them more about your brand or services.
If your customer already speaks highly of your brand or services without you having to ask them to do so, this customer is an advocate for you brand. The last step on the roadmap is not only to have an advocate for you brand, but a customer that is loyal to your brand and continues to seek your company for its services.
3. Create
After formulating a marketing plan, the BTA team will begin to create top-notch products across print, web, and social channels for your brand. From video production to graphic design, email marketing to mobile web apps, our team uses the right tools for digital and print production to excel at expressing your brand's identity and core messages across all marketing channels.
BTA plays to win for our clients and we strive to exceed expectations. With expertise ranging from healthcare, tourism, and manufacturing, we continuously look for new ways to be innovative and bring forth results that benefit clients like you.
4. Analyze
BTA knows that sharing your brand or services effectively is crucial to your company's growth and success.  To better understand how our marketing tactics affected your audience, we use an analysis and reporting process that measures performance of our marketing campaigns against desired objectives.
By using tools and processes such as visitor behavior tracking, heat mapping, and A/B testing designs for web and digital ads, we can better understand how customers interact with your brand. This analysis leads to new research, more effective strategies that are agile and can adapt to a changing marketing environment, and more engaging content that brings increased engagement and conversions.
BTA strives for continual optimization to benefit our client's bottom line. Our clients expect us to deliver extraordinary results, and we expect nothing less!